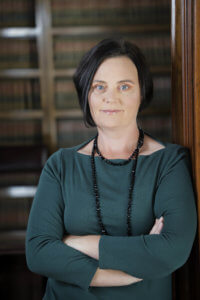 Hilary Fuller Embry, Paralegal
Hilary F. Embry joined the firm in 2012. She is a graduate of Gadsden State where she was a member of the Gadsden State Paralegal Association and Phi Theta Kappa International Honor Society.
Mrs. Embry served in the United States Army from 1998 – 2001 where she served as a Chemical, Biological, Radiological, and Nuclear (CBRN) Specialist. She was stationed at Ft. Campbell, KY, home of the 101st Airborne Division – Screaming Eagles (Air Assault).
Hilary is the paralegal for Jake B. Mathews, Jr. She utilizes her 10 years of experience at the firm of Merrill, Merrill, Mathews & Allen to assist Mr. Mathews in preparing legal documents, preparing for trial, and maintaining contact between the attorney and his clients.
Outside of the firm Hilary enjoys spending time with her family and is an avid Auburn fan. WAR EAGLE!