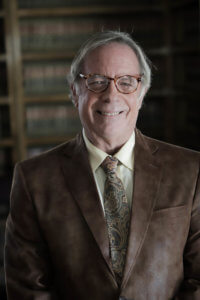 Mr. Ronald L. Allen, Attorney
Ronald L. Allen joined the firm in 1979. He is a graduate of the University of Alabama and received his law degree from Jones Law Institute of Faulkner University.
Allen has served on both the Executive Committee and the Board of Governors of the Alabama Trial Lawyers Association. He has also served as Deputy Attorney General for the State of Alabama. Allen has also been accepted into the National Trial Lawyers Top 100 Civil Plaintiff Trial Lawyers.
With over 40 years of courtroom experience in Personal Injury, Product Liability, Fraud, Wrongful Death, Criminal Defense, Divorce and Child Custody, Allen adds experience and dedication to the law firm of Merrill, Merrill, Mathews & Allen.
Allen has extensive experience in Municipal Law having represented municipalities for over 40 years. He currently serves 3 municipalities in Calhoun County as their City Attorney.
Additionally, Allen is very active in his community and is active in numerous civic affairs.